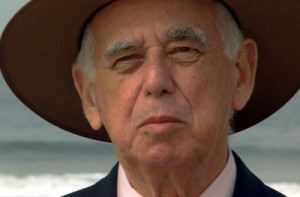 *
*
"I appointed David Freeman as Chairman of the Tennessee Valley Authority over thirty years ago as a trusted energy advisor.  Since then, he has maintained and expanded his knowledge and experience concerning our current global energy crisis.  Few are more qualified to lead the way than David Freeman."
— Former President, Jimmy Carter
S. David Freeman was one of the architects of the EPA during the Nixon administration.  He was appointed chairman of the Tennessee Valley Authority by President Jimmy Carter and after 7 years at TVA served subsequently as CEO of major public utility for 30 years including: Lower Colorado River Authority,New York Power Authority, Los Angeles Department of Power and Water, and Sacramento Municipal Utility District.
 He is recognized as an Eco-pioneer for advancing affordable energy and efficiency.  He has written and lectured extensively on energy and the environment and is the author of the influential book, "A Time to Choose" written in 1974, under the auspices of the Ford Foundation.  He has also authored, "Energy The New Era," written in 1974 and "Winning our Energy Independence, an Insider Shows How," written in 2007.  His latest book was endorsed by people as varied as Robert Redford, Ralph Nader, President Jimmy Carter and T. Boone Pickens.
 While working at TVA it was his vote that was responsible for stopping eight large nuclear reactors already under construction in the homeland of the atomic bomb. Instead, he implemented a conservation program that was much more cost-effective.
 In 1990's Governor Cuomo offered Freeman the job of leading the New York Power Authority.  It was there that he initiated major conservation efforts, including solar power and electric cars, which Governor Pataki continued and strengthened after Freeman left New York in 1996.
 In 2005 Mayor Antonio Villaraigosa appointed Freeman as the President of the Los Angeles Board of Harbor Commissioners. The Board implemented the most aggressive Clean Air Action Plan in the nation—a comprehensive strategy that reduced air emissions from port operations by 50%.  Mr. Freeman has served most recently as L.A.'s Deputy Mayor for Energy and the Environment, and briefly as Interim Manager of LADWP until April of 2010.
 Freeman was featured in the critically-acclaimed documentary Who Killed the Electric Car? in 2006.  Freeman won awards from the Los Angeles Coalition for Clean Air, National Wildlife Association, Global Green, CEERT, CalStart 2007 Blue Sky Award and many other organizations for his devotion to clean air, water and renewable energy.