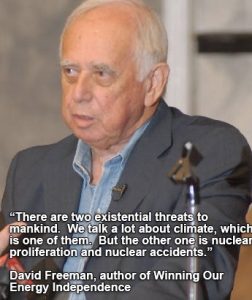 S. David Freeman speaks on his new book, All-Electric America and on Nuclear Energy.
Click here for the full radio show.
Announced on the Radio Hour: Freeman will be a speaker at Ralph Nader's "Breaking Through Power" event on Thursday, May 26th.
"Breaking Through Power" To celebrate the Unsafe at Any Speed milestone, and to reflect and renew our civic spirit and resolve we are convening an unprecedented gathering of public interest organizers, advocates, experts, and concerned citizens for four days at historic Constitution Hall in Washington DC.
Fifty years ago the publication of Unsafe at Any Speed sparked a serious awakening in our society that launched initiatives and organizations that have dramatically improved our personal health and safety, in the home, workplace, marketplace and the environment..
Click here for more information in Breaking Through Power
https://www.breakingthroughpower.org/
Other Guests on the Radio Hour show included: Mickey Huff and Dr. Gordon Douglas.